Sussex County is "Going Purple" in September in an all-out community effort to end substance abuse in the community and beyond. Sussex Goes Purple is substance abuse awareness initiative of the Sussex County Health Coalition with support from the Delaware Division of Substance Abuse and Mental Health (DSAHM), Highmark and all three hospitals in the community.
The project is based upon Project Purple, an initiative of The Herren Project, a 501(c)3 non-profit foundation established by former NBA basketball player Chris Herren, which assists individuals and families struggling with addiction. Today, Chris is a motivational speaker, author and sobriety advocate who assists individuals and families struggling with addiction through treatment navigation, education and mentoring.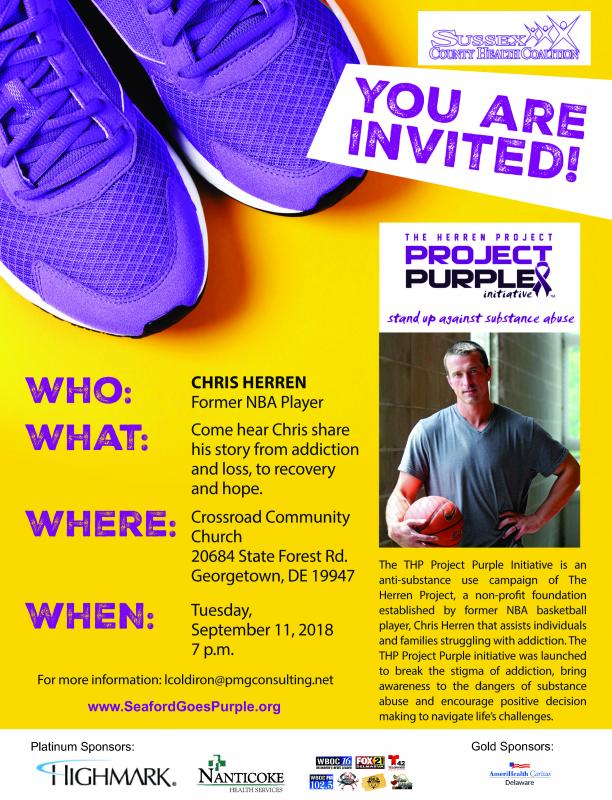 Please join us on Tuesday, September 11 at 7:00 pm at Crossroad Community Church in Georgetown for Rebound: The Chris Herren Story, an inspiring presentation featuring former NBA professional basketball player, Chris Herren. This event is FREE and open to the public, but seating is limited, so we are asking attendees to arrive no later than 6:45 pm. (Click the image on the right to download a copy of our event flyer!)
The following day, Chris will address local students at two assemblies: First in the morning for Seaford High School students, and then in the afternoon for Seaford Middle School students.
The Herren Project's Project Purple initiative's goals are to create awareness and educate the public on the epidemic of substance abuse while encouraging teens and people of all ages to make positive decisions and stand up to drugs and alcohol. The concept was developed when Chris, who struggled with substance abuse throughout his basketball career, spoke at a local high school. In the front row, students were wearing purple shirts. After Chris shared his story, one of the girls in a purple shirt raised her hand and stood up to speak. As snickering and laughter could be heard in the auditorium, the student said, "Thank you, Mr. Herren, for validating what we do. We are the sober students of this high school and each year we take a pledge to not use drugs or alcohol." Chris was captured by the courage it took to not only stand up and share the symbolism of the purple shirts but was inspired to make a difference amongst adolescents across the United States.
By "Going Purple," the community can make a difference, celebrating life and supporting one another. We are looking to local businesses, churches, and EVERYONE in the community to help us turn the community purple starting September 11. Some ideas include purple lights, purple water fountains, purple flowers and purple ice cream – the possibilities are endless and we encourage you to share your photos and videos on social media with the hashtag #SussexGoesPurple!
Get creative, join the movement, and show your support by turning your business, church, organization, school or home purple starting September 11!